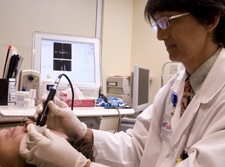 New York Eye and Ear Infirmary of Mount Sinai (NYEE) offers comprehensive care for eye, ear, nose, throat and head & neck procedures. Because the resulting clinical care is efficient and often less costly than other hospitals, including major medical centers and tertiary care facilities in both the US and abroad, patients feel they are best served by traveling to NYEE for their eye surgery.
We offer services to help make a stay as easy and seamless as possible, too. These include:
Premium private rooms with extra amenities such as guest accommodations at the hospital during your stay.
Private duty nursing available during your hospital stay.
Private duty nursing available after your stay, prior to leaving New York and, if needed, referral help with nursing near your home.
Prompt follow-up with your referring physician to assure continuity of care.
New York City is the ideal location for patients and their families as it offers amenities on a 24-hour clock, 7 days a week. New York Eye and Ear Infirmary is centrally located in Manhattan, convenient to hotels, restaurants and all forms of transportation. Patients are never without resources, both inside the hospital and in the area surrounding the hospital. This can be a major comfort to those unfamiliar with the United States or New York. The advantage of having a procedure performed at NYEE includes your anesthesia experience. Due to the large number of cases each year, our anesthesiologists have greater experience and knowledge at providing eye specific peri-operative anesthesia than most, if not all, hospitals in the northeastern United States. The anesthesia team at NYEE is adept at delivering all types of anesthesia and treating all age groups, from pediatric to the elderly. This assures our patients that they are receiving the safest and most appropriate anesthesia tailored to their medical condition and surgical needs.
Financial Considerations
Procedure costs are determined on a case-by-case basis. Once you are considering New York Eye and Ear Infirmary for medical or surgical care, your medical records will be requested and reviewed by the appropriate specialist at our hospital. An assessment will be made on the type of intervention required, and a fee determined. The price will be an all-inclusive rate for your care. If you have private insurance, we will review that information with you, too.
Our cancellation policy is flexible. As long as we are notified at least two weeks in advance, there will be no charges. We will also make our best attempt to find an alternative, more suitable date for your procedure. In the event you cancel your surgery due to medical reasons, a minimal charge will be made to cover administrative expenses that may have been incurred.
While hotels in New York can be expensive, exchange rates work in favor of international patients who find their stay less expensive than comparable accommodations in other major capitals around the world. Several hotels in Manhattan and in the greater NYC area offer discounted rates to New York Eye and Ear Infirmary patients, and we offer discounts to various cultural and entertainment venues, too.
Logistical Arrangements
Traveling to New York for care, patients will need to factor in a post-surgical recovery period, which will vary by procedure. Two weeks should be sufficient for almost all procedures. There are many places to convalesce in the area, and our administrators will discuss these options with patients prior to finalizing a procedure at the hospital.
Depending on your age and medical history, pre-surgical lab tests may be requested prior to booking a surgical procedure at the hospital. If lab tests are not required prior to booking, tests may be performed upon arrival in the US prior to your hospitalization. Please be advised that the physician may request to have lab tests done prior to surgery even if you have existing test results upon your arrival.
New York Eye and Ear Infirmary employs a culturally sensitive and diverse staff of 600 employees who speak over 25 languages. For patients who do not speak English, the hospital provides interpretation services from admission to discharge. When necessary, every effort will also be made to accommodate interpretation services for patients who may need them before or after their stay, too.