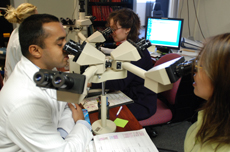 The New York Eye and Ear Infirmary of Mount Sinai (NYEE) Department of Pathology and Laboratory Medicine with full-time staff of four fellowship-trained eye pathologists is one of the largest services at a single institution in the world. Processing nearing 15,000 cases a year, the anatomic pathology laboratory is the major referral center in eye pathology for the entire Northeastern US. Consultations run the gamut of immunologic, congenital, infectious, degenerative and neoplastic diseases, both benign and malignant. NYEE also supports diagnosis of infectious disease of the eye through its widely respected Ocular Microbiology Service.
Telepathology capabilities center on the Aperio® digital slide scanner, as digital slide servers are internet-accessible from any location in the world. This technology is also used to support an educational program with internet-based distance learning through the Virtual Eye Pathology Laboratory.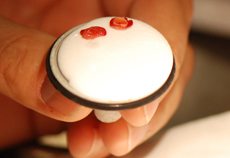 The Department's clinical laboratory provides timely, critical support for outpatients and surgical patients, enabling the hospital to expedite patient preparation for surgery without sacrificing quality. A fine needle aspiration biopsy service allows the pathologist to examine the patient, perform the aspiration, and evaluate the cytologic material in one setting.
NYEE maintains the Tissue Culture Center, which is internationally acclaimed for nearly 20 years of experience in defining cell biology of the uveal melanocyte. The Center also provides academic and clinical guidance for several similar centers in China and Taiwan.