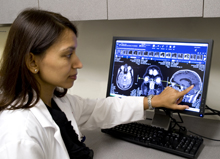 The Neuro-Ophthalmology Service of New York Eye and Ear Infirmary of Mount Sinai (NYEE) cares for patients with visual disturbances related to the nervous system.
Medical and surgical treatments may require optic nerve sheath decompression, botulinum injections, temporal artery biopsy, and interventional radiology for cerebrovascular lesions. The neuro-ophthalmology service performs expert diagnostic work-ups for all neuro-ophthalmology patients requiring further surgery. In collaboration with the Glaucoma Service, there is ongoing research in imaging of the optic nerve head and peripapillary retinal nerve fiber layer.
NYEE is a clinical trial site for the Neuro-Ophthalmology Research Disease Investigator Consortium (NORDIC). Supported by the prestigious National Eye Institute of the National Institutes of Health and other funding agencies, NORDIC provides organization and operational support for carrying out multi-site clinical studies of rare neuro-ophthalmic disorders at locations worldwide in order that patients with rare disorders can be studied and treated in a consistent and meaningful fashion.
Treating
optic neuritis
temporal arteritis and other cerebrovascular disorders
blepharospasm and hemifacial spasm
myasthenia gravis ocular
thyroid eye disease
orbital and intracranial tumors
motor disorders including cranial nerve palsies